Did you get a mailer from Americor, Credit9, TriPoint lending or see the ad below stating you have been pre-approved for a "consolidation" that will drastically reduce your monthly payment? Are you surprised that your "pre-approved" due to your credit score?
What Is Americor? Is it the same as AmericorFunding.com?
Yes, Americorfunding.com does a redirect to Americor.com, so the companies are one and the same. I am not sure why they ad "funding" in the URL as the main website pitches debt relief which is different than a loan, which we will cover later. That said, it's possible that Americor Funding does provide debt consolidation loans and then pitch debt settlement if individuals do not qualify.
Debt settlement is the process in which a third party negotiates with your creditor on your behalf. The goal of a debt settlement firm is to find a lower payment that will fully satisfy the debt that you owe. I was the previous CEO of a debt settlement company, and I know that debt settlement may be a good option, but it also may not be compared to other options.
Now,
if you are struggling with debt
and wondering what to do next, we built a
free, unbiased debt options comparison calculator
(
not even an email address is required
) that provides a wide range of debt options that may be able to fit your budget. The data is personalized to your income and expenses, so you can get accurate costs, pros and cons, and options.
Debt settlement may be a great option for you, but it's helpful to understand each of your options.
Let's next cover Americor's history.
Americor History
According to their website, Americor is the "Nation's Leading Provider of Consumer Credit and Debt Relief Solutions." While there is no study or research provided that backs up this claim, it does appear as though Americor is a very large player in the consumer debt relief field, with over $2.0 billion of total debt relieved through its company. Americor offers assistance with debt settlement, and debt consolidation— if that is something you are considering. They are located in Irvine, CA, but they serve over 30 states in the nation and have been in business for over 14 years.
If you have recently come to realize you have a debt you cannot afford to pay back, you may have started researching debt consolidation debt relief companies. While different debt relief companies offer different services, there are three main types of debt relief offered. These include debt settlement, debt consolidation, and debt management. While these can be difficult — or even impossible — to do on your own, debt relief companies tend to have the skills and resources available to do them all well. Unfortunately, their services are not free.
How Much Does Americor Cost?
At Ascend, we believe that debt settlement may be a good option, but it's only in the context of understanding all of your options and understanding the cost of that option. This is exactly why we built a free
debt relief cost comparison calculator
so that you are MOST informed.
So, how much does Americor actually cost?
Debt consolidation companies such as Americor often charge based on a percentage of enrolled debt.
While most debt relief companies don't broadcast what they charge, we can estimate the general charges. Debt settlement companies don't typically charge a flat rate. For this example, let's pretend you have a $2,000 debt. Americor can settle that debt for around 50%. This would mean you owe your creditors only $1,000. However, on top of that, you also owe your debt settlement company. Generally, debt settlement companies charge anywhere between 15-25% of the enrolled debt amount. So, in this scenario, Americor could potentially charge you anywhere between $300-500. While this may not feel like a lot, larger debt forgiveness does lead to larger charges.
Many times, these companies charge closer to 25% which is quite high. In fact, Americor states on their website that the average savings is 43% (source: Americor.com), but that number is BEFORE program fees, so it seems that they are stating that they settle the debt at an average of 57% of charges. Finder.com states that Americor typically charges 25%, which can be VERY expensive compares to a company that charges just 15% of enrolled debt.
Another important distinction between Americor is understand the difference between a debt consolidation loan and a debt consolidation program.
Important Distinction: Does Americor Offer Debt Consolidation Loans or Debt Consolidation Programs?
At the time of this writing, Americor had 145 complaints in the past 3 years on BBB. When you look at the complaints, you will may be surprised by what you see. Can you relate to this?
Many people believe that they are trying to sign up for a debt consolidation loan, not a debt consolidation program. Here are some of those reviews: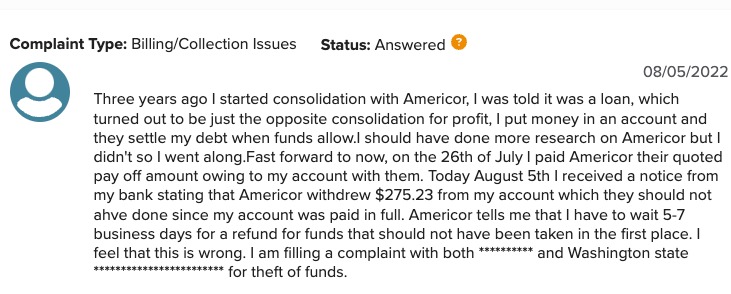 Differences:
Let's cover some of the differences between a debt consolidation loan and program:
Loan: You consolidate your credit cards into one payment, your credit score may go up if paid on time, you receive the funds into your account generally and payoff creditors, you would make the one payment to the creditor each time.
Program: You can save money but the debt consolidation company negotiates when accounts are behind. Your credit score may be negatively impacted, your debt goes past due, you can be sued for you unpaid debt, and you may get collection calls.
To best understand how a company works, it can be helpful to look at both employee reviews and client reviews, so let's first look at what employees have stated via Glassdoor.
Also, what I found interesting was the physical proximity of Americor to both Credit9 and TriPoint lending. If you read our articles covering
Credit 9 reviews
and
TriPoint lending reviews
, you will see example ads pitching debt consolidation loans to consumers. Are these companies connected? See the Google map image below that shows that Americor and Credit9 are on the 5th and 6th floor of the same building! In addition, TriPoint lending is just a short walk from both of these entities!
Let's next cover Americor's employee reviews.
Americor Employee Reviews
At the time of this writing, Americor had a 3.4 rating on Glassdoor with just 62% of people recommending to a friend. So, there are reviews that highlight that Americor is a "great company" with "growth and opportunity".
That said, let's look at what employees say regarding Americor's potential marketing tactic to pitch a low interest rate debt consolidation loan, just to show that you only qualify for a debt consolidation program.
"Bait and Switch" Americor Review (Source):
This individual stated on Glassdoor that the marketing information sent to clients tell them that they are getting loans with low interest rates, but more often than not, they are getting enrolled in a debt consolidation program (debt settlement).
"Smoke and Mirrors" Americor Review (Source):
This individual calls the company's marketing tactics, "a bait and switch" that is hurting vulnerable clients that desperately need help.
Example Americor Review (Source):
This individual states that this company offers fake loan offers to get clients into their debt settlement program.
You see these employee reviews, but you notice that the client reviews are much better.
Americor Client Reviews
You may be looking at Americor's client reviews and wonder why they have such good reviews. Can you trust these reviews?
One hypothesis may be because Americor asks clients for a review soon after showing how much they will save the individual in debt payments, not when the individual may face collection calls, a lawsuit, or their credit score dropping.
That said, let's look at Americor's reviews ranging from a 4.3 rating based on 231 reviews on Facebook to 4.2 rating based on 4 reviews on Site Jabber.
BBB Reviews
Americor is an A+ rated, BBB Accredited Business. They have a decent amount of reviews on the platform as well! There are 1,886 reviews, and they have an average rating of 4.58 out of 5-stars.
After reading through some reviews, however, it is clear that many of the 5-star reviews are from potential clients who had a discovery call with an agent and were excited at what they were promised.
Intermixed were negative reviews of individuals who had actually completed the program and were frustrated with how things ended. Although some people seemed more upset because they didn't realize there would be an extra charge aside from their debt repayment, there are a few reviews that mention Americor was slow to communicate and delayed important action when time sensitivity was needed.
Google Reviews
Like BBB, Americor has a relatively high score with lots of reviews. With just over 3,000 reviews, Americor has a solid 4.6 out of 5 stars. The reviews on Google were much more insightful than the majority of those found on BBB. Google reviews had more individuals reviewing Americor's actual services instead of their customer service calls. Many people claimed that Americor did exactly what it said it would do. There are still some negative reviews, though the majority, again, sounded as though they simply did not understand the risks that go along with attempting to settle your debt (potential lawsuits, service fees of 20% or more, lowered credit score, etc.).
TrustPilot Reviews
Americor has over 7,000 reviews on TrustPilot, with an average rating of 4.9.
Again, it's interesting to note that most of the 5-star reviews simply praise the first phone call the individual had and not the entire debt relief process.
In fact, it appears that Americor might intentionally be requesting clients leave them reviews right after their first phone call.
This is a common tactic that many businesses use to up their average ratings on specific platforms. They might end their phone call with something like "if you found this phone call helpful, please consider leaving us a 5-star review on TrustPilot."
Because the individual was just promised thousands of dollars in savings, they are more likely to do this. However, since they have not gone through the debt relief process with the company, the review is not substantial when it comes to actual services. While this may or may not be the case with Americor, it is easy to see that a majority of the 5-star reviews were done after the first point of contact instead of after the entire debt relief process.
Americor Testimonials
On Americor's website, there are also testimonies of people who did the different debt relief options that they offer. While these are no doubt going to be glowing reviews (since they were likely done by Americor and are posted on their website), they are still worth watching as they show real people who have gone through the very thing you might be considering.
Again, since these are found on Americor's website, it is unlikely that you are going to find any negative reviews.
In fact, the reviews should be overwhelmingly positive. Americor can decide what their website looks like! However, it won't necessarily give you an unbiased review. Keep this in mind while watching the testimonials posted on Americor's site.
What Are Your Options?
Ultimately the decision is yours to make! That said, some of the reviews both from the clients and potential employees are mixed. For example, some people may get out of debt using the debt relief program, but others may have thought it was a debt consolidation loan.
If you are struggling with debt and would like to see alternatives to Americorp, please consider taking our free debt resolution cost and options calculator below.