When you look through BBB's list of Debt Consolidation Companies that are BBB accredited (and non-accredited), you may feel a bit overwhelmed. For example, the top option is for Family Debt Arbitration & Counseling Services, which may be credit counseling.
So, I went through the list of the most commonly searched companies in the debt consolidation space, and here's the list.
Also, for the sake of clarity, the list below is for debt consolidation companies that provide debt consolidation programs (also known as debt negotiation or debt settlement), not debt consolidation loans. If you are looking for debt consolidation loan companies BBB accredited, please text us or call us at 833-272-3631 to create one for you.
Is Freedom Debt Relief BBB Accredited?
At the time of this writing, Freedom Debt Relief has an A + Rating with 1315 BBB reviews and 4.34/5 rating. That said, Freedom also has 360 complaints in the last 3 years.
Freedom Debt Relief is no stranger to controversy. Freedom Debt Relief has been involved in 2 Debt Relief Law Suits. They were sued by the Consumer Financial Protection Bureau, for failure to notify customers about their rights of funds deposited, and that they were misleading consumers about their fee structure. While this may feel dishonest, they did not admit or deny any wrongdoing. While settling your debt with Freedom Debt Relief may be a good option, it is important to be aware of the Pros and Cons, the most predominate con being the impact to your credit score.
Based on everything you have read so far, you may feel that FDR may be a scam, are they? Have you been working with them, and are not sure if you would like to continue? You can check out our article Is Freedom Debt Relief a Scam to help you understand their legitimacy. Our article How to Cancel Freedom Debt Relief may help shed some light on their cancelation process as well.
Is National Debt Relief BBB Accredited?
Presently, National Debt Relief (NDR) has an A+ Rating with 1618 reviews. They have 4.59/5 stars and have received 254 complaints in the last 3 years.
You may have received something in the mail from National Debt Relief stating that you were pre-qualified for a low interest debt consolidation loan but ended up not qualifying - instead, you qualified for a debt consolidation program. Maybe you saw a social media post claiming that there was Covid debt relief for eligible Americans. Chances are you may have gone ahead and signed up. You may feel that you have been screwed by National Debt Relief - "National Debt Relief Screwed Me" is a growing google search term that has been steadily increasing year after year.
When signing up with National Debt Relief or any debt settlement company, it is important to discuss their fees and any credit score impact that may come with enrolling in their program.
Let's repeat with a similar structure. If any company says that their fees are low, and that there is no credit score impact, proceed with caution. Make sure you read your contract carefully before signing. If you have already signed up with National Debt Relief and are not happy with the service you have received, check out our article How to Cancel the National Debt Relief Contract.
Is J.G. Wentworth BBB Accredited?
Currently J.G. Wentworth has an A+ rating with the BBB. They have 4.24/5 stars with 127 customer reviews and 86 complaints within the last 3 years.
J.G. Wentworth offers a variety of financial services to help individuals get out of debt. Their reviews appear to be legitimate, but may be more surface level. The most common negative review that I saw was in regards to dramatic decrease in their credit score and the threats of lawsuits from creditors.
For a more detailed understanding of our findings you should view our full review: JG Wentworth Reviews: Is It Legitimate?
Is ClearOne Advantage BBB Accredited?
As of now, Clear One Advantage has an A+ rating and a 3.85/5 stars with 468 reviews, with 203 complaints in the last 3 years with the Better Business Bureau.
Clear one tends to be on the more expensive side for debt settlement, their fees fall somewhere between 15-25% which can add up quickly. You will stop paying your creditors and continue to pay them. They will not start to settle your accounts until you have reached a balance of about 40% of your enrolled debt in their account. This has the potential to open the consumer up to a higher lawsuit likely hood due to the fact that there is the possibility of a large span of time between when you stop paying your creditors and when ClearOne starts to settle the accounts for you. If you are curious about them, but are not totally sure, please check out our article ClearOne Advantage Reviews: Are the 8332 Evaluations Legitimate?
Is Credit Associates BBB Accredited?
Presently, as of 12/22/2022, Credit Associates is NOT accredited by the BBB. However, they do have an A+ rating with 1.56/5 stars, 27 customer reviews and 97 complaints in the last 3 years.
Credit Associates may have sent a mailer to your house saying that you are "Pre Approved" or that it is your "Final Notice." Credit Associates is not a loan, they do debt settlement. In order to work with them you must have at least $10,000 worth of unsecured debt. A majority of the reviews are about accounts not being settled on time, law suits and credit score damage. You can read all of their BBB reviews here. If you would like more information, please read our review of Credit Associates: Credit Associates Reviews and Fees: Is It Legitimate?
Is Americor BBB Accredited?
Americor currently has an A+ rating, with 4.64/5 stars with 1631 reviews and 139 complaints in the last 3 years.
You may have heard of Americor via a mailer or an add saying that you are "pre-approved" for funding. This is not necessarily true, while they do not offer loans, they offer debt settlement and the rate is somewhere between 20-25% of the enrolled debt. It seems that a majority of the negative reviews discuss their dishonest marketing tactics, that they wanted a loan but got debt settlement instead. If you would like more information check out: Americor Reviews: Is it Legitimate?
Is Accredited Debt Relief BBB Accredited?
Currently, Accredited Debt Relief has an A+ rating and 4.82/5 stars with 246 reviews and 19 complaints in the last 3 years.
Accredited Debt Relief is actually a DBA of Beyond Finance. You may have seen one their ads urging you to apply for debt consolidation in 2022/2023. The term consolidation can be very broad, in this instance they are referring to debt settlement. You will have one monthly payment, but you should seriously consider weighing the pros and cons of debt settlement to make sure that it is a good fit for you and your situation. Want more information? Check out our article: Accredited Debt Relief Reviews: Are the 4000+ Evaluation Legitimate?
Is Century Support Services BBB Accredited?
Century Support Services, LLC currently has an A+ rating and 3.66/5 stars with 38 reviews and 17 complaints in the last 3 years.
Century Support Services has run ads that discuss the amount of debt you have and how their experts can help you negotiate down your debt. I like this advertisement because it is pretty straightforward and they explain from the beginning that they are going to be negotiating your debt down, and not trying to sell it as a debt consolidation loan, or debt consolidation. We wrote a detailed expose of Century Support Services, you can check that out here.
Is American Debt Relief BBB Accredited?
American Debt Relief is not accredited by the BBB. Furthermore, they have an A+ rating and 1.67/5 stars with 6 reviews and 8 complaints in the last 3 years. 4 of those complaints have been within the last 12 months.
It appears that most of their negative reviews are from people who are not clients enrolled in their program. The reviews are from people who have been contacted by them who are not interested in debt relief and are bothered by the spam calls. If you would like to find out more, we wrote a detailed review about their company. Check out American Debt Relief: Are the Reviews Legitimate?
Is Rescue One Financial BBB Accredited?
Rescue One Financial is BBB accredited. They have an A+ rating and 4.93/5 stars with 455 reviews and only 1 complaint in the last 3 years.
Rescue One Financial provides both debt settlement and credit counseling services. Their reviews on many platforms are very good and appear to be better than their competitors. Upon taking a look at their reviews it appears that many of the reviews are based on people's experience with the customer service agents and not the actual debt settlement or credit counseling program. We break down their reviews and give our opinion on their company in our article: Rescue One Financial Reviews: Is it Legitimate?
Is DebtBlue BBB Accredited?
At the time this article was written, DebtBlue is accredited in the Tempe region with an A+ rating. In the North Dallas region, Debt Blue was not accredited by the BBB. However, they have a B rating and 4.37/5 starts with 134 reviews and 40 complaints in the last 3 years.
If you are interested, please consider reading our review covering
DebtBlue
in detail. In our review, we cover some of the BBB complaints in addition to DebtBlue reviews on other platforms. For example, one individual complained that they were trying to cancel the program, but couldn't after contacting DebtBlue multiple times.
Another complainer stated the letter that they had received from DebtBlue stating that the individual had 10 days to call their office about an adjustment of credit accounts. The individual mentioned that they found the letter deceiving.
Is Citizens Debt Relief BBB Accredited?
Currently, Citizens Debt Relief is not accredited by the BBB. They have an A rating and 4.5/5 stars with 32 customer reviews and 20 complaints in the last 3 years.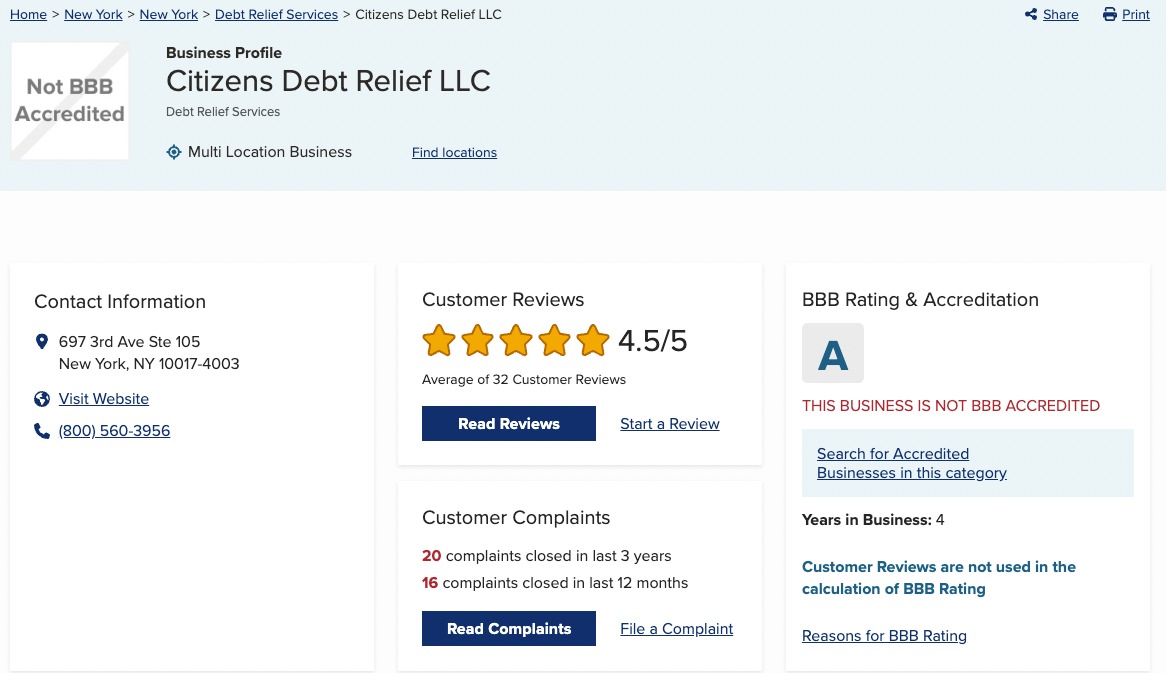 Citizens Debt Relief is pretty new, according to the BBB they are based out of New York and they first went into business in 2017. Upon reviewing their reviews on the BBB I noticed that several of their reviews had duplicates, and many of the positive reviews were in regards to initial conversations they had with a representative, not the actual program themselves. If you are looking into them you can read our full review of their company here.
Is Being BBB Accredited Important for Debt Consolidation Companies?
Lots of businesses including debt relief companies may benefit from having a BBB accreditation. It helps build trust amongst new customers. Furthermore, when it comes to finances it is very important to work with a company that is BBB accredited. In order to be accredited by the BBB companies must:
Be fully transparent on their services and cost of service
Be licensed and maintain their licensure for their services that they provide (as required by law)
Honor all promises (contracts, commitments and representations)
Safeguard privacy
Be responsive
Be honest
Advertise honestly
Even companies that are not accredited by the BBB can still have a rating and reviews. The BBB can still intervene with businesses who are not accredited by them as well. In some cases there are companies that have a low rating and reviews, but an A+ rating based on this metric.
Conclusion
Getting out of debt can be an overwhelming and daunting task. It can feel like there is no way out. Personally, I have been in debt and gotten out of it twice in my lifetime. It never gets easier. If you choose to go the debt settlement route, here are a few things to be aware of:
High pressure sales tactics
Non disclosure of fees
Saying there will be no credit score impact
Not mentioning potential lawsuits
If you are thinking about utilizing debt consolidation program (debt settlement), check out the free debt consolidation program cost calculator below to help you estimate how much debt settlement will cost and compare debt consolidation to other options.