Have you received a mailer from the DebtBlue negotiations department that your response is required and that you have 10 days to contact their office? If you don't, does the letter state that you will face extra fees and penalties? Perhaps you called them and received a quote of $250, which is half of what you are paying each month of $500.
What is DebtBlue? How does DebtBlue get paid?
We will review all of that and more, so let's get started.
What is Debt Blue?
If you are unfamiliar, Debt relief is the process in which a third party negotiates with your creditor on your behalf. The goal of a debt settlement firm is to find a lower payment that will fully satisfy the debt that you owe. So, a debt relief may try to settle a $10,000 credit card balance for $5,000. This can provide ample savings and a potential lower monthly payment.
I was the previous CEO of a debt relief company, and I believe debt relief can be a good option for some, but not for others.
Now,
if you are struggling with debt
and wondering what to do next, we built a
free, unbiased debt options comparison calculator
(
not even an email address is required
) that provides a wide range of debt options that may be able to fit your budget. The data is personalized to your income and expenses, so you can get accurate costs, pros and cons, and options.
Let's next cover DebtBlue's history next.
Debt Blue History
According to its North Dallas BBB page, DebtBlue started in 2004, so the company is nearly 20 years old. While DebtBlue started in 2004, it did not open a BBB file until August, 2019. The company is headquartered in Richardson, Texas, and you can reach the company between the hours of 8 am and 8 pm, Monday through Friday, and Saturday between 9 am and 2 pm.
How Much Does DebtBlue Cost?
At Ascend, we believe that debt relief may be a good option, but it's only in the context of understanding all of your options and understanding the cost of that option. This is exactly why we built a free debt relief cost calculator so that you are MOST informed. While the calculator cannot provide your exact DebtBlue plan payment, it provides an estimate based on your personalized financial data and allows you to compare debt relief to other options.
So, how much does DebtBlue cost?
According to DebtBlue's FAQ's, DebtBlue charges typically 25% of the debt that you enroll in the program. No fees are collected upfront, but that's standard in the industry.
Often, debt relief companies state that it charges between 15-25%, so 25% is potentially on the higher end of that spectrum. The companies that we have partnered with tend to charge between 15-20%, potentially with some exceptions.
I liked how DebtBlue was also forthcoming about the Veritas Legal Plan which is another $39.95 per month. Just for reference, if you are in a 48 month program, that would be an additional $1917.60 in fees you are paying for legal protection. Generally, debt relief companies offer this in case of a debt collection lawsuit for one of your accounts.
Many debt relief companies should understand which creditors are more likely to sue as your accounts often go past due before the company settles, so it's unclear why they would pitch this product if your creditor mix all had a low lawsuit likelihood of suing.
Debt Blue Reviews
When you look at DebtBlue reviews, you'll notice some positive and also some negative reviews. Let's dig into BBB and Google reviews first.
BBB Reviews
According to BBB, DebtBlue maintains a B rating with a 4.37 based on 134 customer reviews. At the time of this writing, DebtBlue is accredited in the Tempe, Arizona division with an A+ rating, but not yet BBB accredited in the North Dallas region. This may be due to the fact that different BBB chapters operate differently, but we may dig into this closer if we have more information.
DebtBlue Tempe Arizona


DebtBlue North Dallas

Debt Blue also had
27 complaints
in the last 12 months and 40 complaints in the last 3 years. It can be extremely useful to read complaints. One complaint mentioned that the individual called multiple times to cancel their membership, but was unable to get someone on the phone to call back to cancel.
A second complaint addressed the letter that they had received from DebtBlue stating that the individual had 10 days to call their office about an adjustment of credit accounts.
Let's next look at the Google reviews.
Google Reviews
On Google, Debt Blue maintains a 4.7 rating based on 769 reviews. Sometimes debt relief companies will ask for a review shortly after entering a program, so I like to see reviews where the individuals shows that they have been in the program long enough to experience the process.
On the positive side, June J stated in their review that they have had a good experience thus far. June mentioned that they reached the first settlement at about 90 days, which was faster than they expected.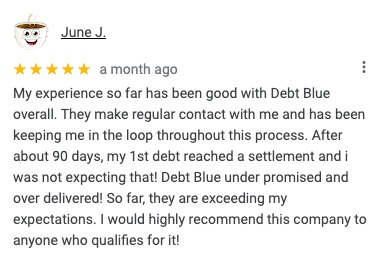 On the other hand, Olivia stated that she had a negative experience. In her review, Olivia stated that the communication has been terrible. She stated that the creditor had threatened legal action and she had been served in a debt collection lawsuit. Many debt relief companies know who will sue, so it's unclear why Debt Blue provides a lawsuit likelihood calculation to her before entering the program. Or potentially, they did, but this one ended up in a lawsuit.
Facebook Reviews
On Facebook, DebtBlue has a 3.7 rating based on 13 reviews. As seen below, Bridgette mentioned in her review that Debt Blue has lifted a burden off for her.
In Summary
DebtBlue is BBB accredited in the Tempe division, but not yet accredited in the North Dallas region. Also, DebtBlue is an accredited member of the American Fair Credit Counsel and has a BSI ISO certification.
Debt Blue may tend to charge on the higher end of the fee structure at roughly 25% of enrolled debt. DebtBlue has accreditations with AFCC and BSI, and while it may not yet be accredited in the North Dallas region, it is accredited in the Tempe region with an A+ rating.
If it's helpful, feel free to consider taking our free debt relief cost calculator below to estimate your monthly debt relief cost and compare your options.