Written by Ascend Team
Updated Nov 1st, 2023
Did SilverLake Financial prequalify you for a loan with a 5.8% interest rate? Did you apply and get rejected for the loan, but you got approved for a debt consolidation program (aka debt forgiveness / debt resolution / debt relief / debt reduction / debt negotiation / debt settlement / debt arbitration program, the list goes on and on)?
If so, I wrote this article for you.
What is SilverLake Financial?
SilverLake Financial seems to be a debt relief company that sends mailers to individuals pre-qualifying them for a debt consolidation loan. It's unclear whether the individual can get a loan once contacting SilverLake Financial or whether they may be pitched a
debt settlement program
(also known as debt consolidation). Debt settlement can be a great option for some people, but it is not the option for everyone! A lot of companies out there, are currently targeting people who need help getting a handle on their debt.
If you are looking for a loan, we have 2 debt consolidation loan options that we like that do not affect your credit score when checking rate and do not charge prepayment penalties.
Important Distinction: Loans vs Programs
Debt consolidation loans can be a great option if you are up to date on your payments, your credit score is generally above a 620 and you can afford your monthly payments. You may just be looking to consolidate it all into one place to make it more manageable, and that can be a great option for some!
Debt settlement can also be a great option for you if you cannot afford your monthly payments, you need help reducing the debt amount, and you are aware that there is POTENTIAL your creditors can threaten to take legal action if they do not agree to the settlement terms.

SilverLake Financial History
If you are looking for a company that has been around for many years, SilverLake may not be the company for you. It appears as though they have only been on
WayBack Machine
since the end of 2021, but the activity really picked up in 2023.
How Much Do Debt Consolidation Programs Cost?
At Ascend, we believe that debt consolidation programs (debt relief) may be a good option, but often in context in understanding all the costs and duration estimates of all your options. As such we built the free debt consolidation program cost calculator below to help you compare your current monthly obligations to a debt consolidation program.
SilverLake Financial Reviews
It can be super helpful to read other people's reviews and understand their experiences before you work with a company. It helps to get the full picture before committing to any program.
BBB
I was able to find SilverLake on
BBB
, where they received an A+ rating and 4.79/5 stars.
I started to read some of the complaints, as I noticed they have had 11 in the last 3 years and 7 in the last 12 months
. One review stated they were so glad they took a chance and called someone from a piece of mail. It relieved a lot of stress for them and it was a quick process.
Most of the complaints discussed how they responded to the mailers they received from SilverLake, but when they actually decided to work with them, they realized it was a debt settlement program, not a consolidation loan.
Another review stated they are being bombarded by mailers from SilverLake. When they called to opt-out, it required they enter their social security number just to stop receiving mailers.
Google Reviews
On
Google
, SilverLake
is rated a 3.8 out of 5 stars. They do have quite a few 5 star reviews, discussing how thankful they are for SilverLake and the work they have done for their situation. They discuss how SilverLake took a stressful situation and made it more manageable.
Unfortunately there are also many reviews of individuals discussing the fact that there are no loans to offer with this company. They also discussed how their credit score dropped from a hard credit pull, even though they were promised a soft credit pull.
There are other reviews warning you to not sign up with SilverLake. They say they were transferred to a different debt company after working with SilverLake for a little and not being able to get a hold of them.
TrustPilot Reviews
Some reviews discussed how thankful they are for SilverLake and all the help they were able to provide.
However there were also complaints similar to the ones on other platforms, discussing being pushed into a debt
settlement program instead of a loan.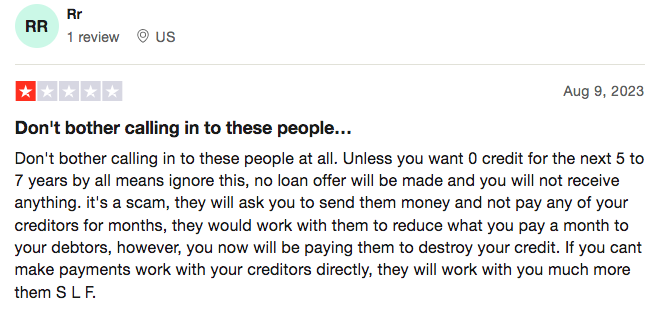 Other Reviews
I also found
SilverLake on
Yelp
. They have a 3.2/5 stars. Some reviews on the Yelp page discuss them being a shady business.
Alternative Options to Company-Name
Many people prefer to try to get a debt consolidation loan before looking at options such as debt management, debt payoff planning, debt settlement or bankruptcy. If you've searched far and wide for a loan and can qualify, consider taking the free debt consolidation program cost calculator below that allows you to compare to other options.