You may have seen TikTok Ads for National Debt Support (not to be mistaken for National Debt Relief). If you haven't seen these ads yet, here are two examples:
1. Websites that Rich People Don't Want You To Know About
Firstly, I have no idea why the creators of this website feel that rich people do not want you to know about this website. Based on what the rest of the video entails, my estimate is that it was just a marketing ploy for you to watch the entire video.
The video goes on to show that you may qualify for emergency debt relief.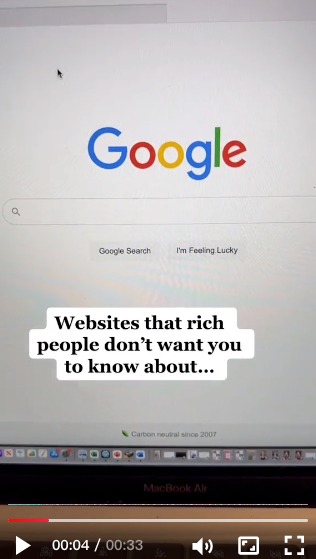 2. Websites that you don't believe exist
In this video, the individual tells you that there is a new emergency debt relief program that is only available to US residents. She states that the National Debt Support group can drastically reduce your debt and that there's no obligation or upfront fees.
Taking a closer examination of National Debt Support's website, you can see that this appears to be just a marketing funnel to just a different debt relief company similar to TurboDebt. You can see that when you click on National Debt Support's service providers, which highlights that it partners with National Debt Relief, Freedom Debt Relief, etc.
DebtSupportNational.com Reviews
I could not find ONE review about DebtSupportNational.com. Instead, I found that you get inundated with Google attempting to send you to National Debt Relief, which is not the same thing.
Secondly, I found one website that states the website has a trust score of 76, but that is in no way a review of debtsupportnational.com
Unlike Turbo Debt which has over 2000 Google Reviews, I could not find a single review for DebtSupportNational.com. What's more interesting is that National Debt Support has the Trust Pilot emblem on its website, but you cannot click on it.
So, I went over to TrustPilot and searched for National Debt Support and also Debt Support National. The only thing I found was a website in the United Kingdom that has a similar name, but different website.
National Debt Support BBB
I could NOT find a BBB page related to National Debt Support. The only page I could find was related to National Debt Relief, which is not National Debt Relief.
Upon further review, the National Debt Support website is owned by Digital Hopr Inc, so I also looked up the BBB for the parent company, but could not find anything related for that company.
What Does DebtSupportNational.com Actually Do?
When you dig deeper into DebtSupportNational.com's service providers, you find out that the company is basically a referral service similar to TurboDebt to another debt relief company. If you aren't familiar with debt relief, we have a very detailed YouTube video covering debt settlement.
That said, if you are struggling with debt, we recommend understanding all of your options (debt relief, debt management, debt payoff planning, bankruptcy, etc.)
As such, we believe that debt settlement may be a good option, but it's only in the context of understanding all of your options and understanding the cost of that option. This is exactly why we built a free debt relief cost comparison calculator so that you are MOST informed.
Would I Sign Up with National Debt Support?
It's up to you whether you want to sign up with National Debt Support, but I do not like the following things from the TikTok ads that I watched:
It stated that it's a new emergency debt relief program. That is not correct. Debt relief has been around for many years. It feels like this ad is basically piggybacking on government emergency COVID debt relief aid, which I do not appreciate
It uses marketing tactics such as "Websites rich people do not want you to know about", which doesn't really capture what is actually happening in the ad.
Finally, National Debt Support appears to be referring you to service providers that often charge fees that can be over 20% of your enrolled debt. At Ascend, we prefer providers that charge between 15 and 17%, which can save you thousands of dollars in the long run.
As such, I generally recommend individuals compare debt relief costs, which you can do via our debt relief costs calculator.
Summary
While I have seen TikTok debt relief ads that may be worse than National Debt Support's ads, I do not like that they are pushing this program as a new emergency relief option. It makes it seem related to the pandemic when debt relief has been around for a long time.