Did you receive a mailer from Loyal Lending (like the one below) pre qualifying you for a debt consolidation loan for just over 3.89%?
What are the reviews? Do you actually get a loan? The results may surprise you, so let's get started.
\\
What Is Loyal Lending?
I became aware of Loyal Lending from my call with a person I will name John. John received the mailer above, and applied. Per the representative, he did not qualify for his pre-approved loan, but instead qualified for a debt consolidation program with Level One Law.
The representative got him connected with another company that would handle the program, so my initial hypothesis is that Loyal Lending is a marketing company that markets something called debt settlement (also known as debt consolidation programs). This is not to be mistaken or confused with a debt consolidation loan where proceeds would be sent to your bank account. Now, if you are looking for a debt consolidation loan, there are 3 debt consolidation loan companies below that we have vetted 1) Only do a soft check to check your credit, so checking your rate DOES NOT AFFECT your credit. 2) Do not charge prepayment penalties. With debt consolidation loans, it may be helpful to check your rate from multiple places to get the best rate. If you aren't able to qualify, then some individuals look at debt settlement.
Important: Also, just as a note to be 100% transparent, Ascend is a for profit business, and we do our best to be unbiased in our reviews of companies. The only reason we write reviews such as these is because we do not believe in the marketing tactic to 'prequalify' individuals for a debt consolidation loan that you may not actually be able to get. When writing this article, one question we found ourselves asking was, "Does Loyal Lending have permissible purpose to prescreen you via the credit reporting agency and are they providing a firm offer of credit at a 3.89% interest rate, but is anyone actually getting that firm offer of credit in a loan for under the federal funds rate of 5.0 - 5.25%?"
We provide the 3 debt consolidation loan options below because we believe that you were looking for a loan, but may not actually have been able to check your rate for a loan. That said, it's important to understand that we do get a referral fee if you choose to move forward with one of the loan options provided.
Debt consolidation loans can improve your credit score, get you on a fixed payment plans, and save you interest, but what happens if you've applied to many debt consolidation lenders and just can't get approved?
Help! I am Not Qualifying For Debt Consolidation Loans
Many people consider debt consolidation programs (not a loan, and also consider debt settlement) if they have tried to apply for many different debt consolidation loans and just continue to get denied.
If you are unfamiliar, Debt settlement is the process in which a third party negotiates and settles with your creditor on your behalf. The goal of a debt settlement firm is to find a lower payment that will fully satisfy the debt that you owe. So, a debt settlement may try to settle a $10,000 credit card balance for $5,000. This can provide ample savings and a potentially lower monthly payment.
I was the previous CEO of a debt settlement company, and I believe debt settlement can be a good option for some, but not for others.
Lets next cover Loyal Lending's history next.
Loyal Lending History
It took some digging to actually find history on Loyal Lending. Firstly, I could not find a BBB page for Loyal Lending. Next, there are reviews for a Loyal Lending on Google, but when you visit the website, you will find that you will be directed to a different Loyal Lending focused on mortgage loans, not credit card consolidation like the Loyal Lending Mailer above. So, the Google reviews appear to be for a different company.
Next, I went to Wayback machine, and found that the website didn't even appear to exist. For example, check out the Wayback machine screenshot from March, 2022, which shows that the domain was for sale for $2900.00.
Next, when you check the page transparency page on Facebook, you'll notice that Loyal Lending's social media page wasn't created until September 26, 2022.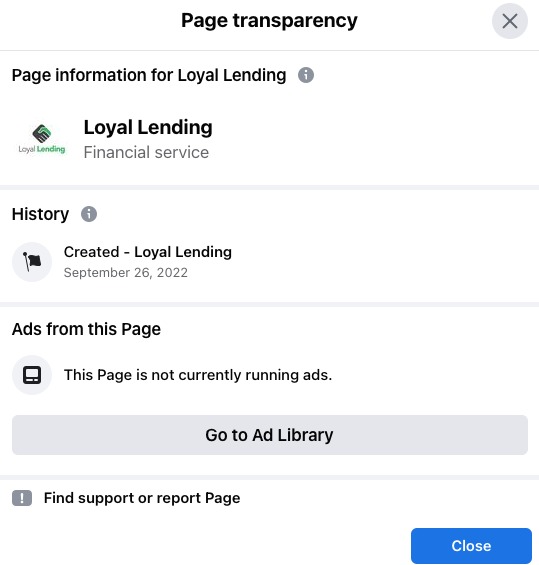 Finally, when I looked at the address from the mailer, I noticed that it's just a PO box, not a business address. So, I could not find much history for Loyal Lending.
How Much Does Loyal Lending Cost?
At Ascend, we believe that debt settlement may be a good option, but it's only in the context of understanding all of your options and understanding the cost of that option.
There are two types of firms you may work with, and the fees may be quite different.
If you end up in a debt consolidation program with a non-law firm, you may pay generally between 15-25% of the enrolled debt amount, but the fees are not due until settlement has been reached and first payment has been made. So, if you have $10,000 in debt, you may pay between $1,500 and $2,500 in fees if you complete the program.
If you work with a debt relief law firm, you may have to pay a retainer fees before settlements have been reached. This can be an important distinction to understand in case you have to cancel the program before any settlements have been reached. In a traditional debt consolidation program, you often pay fees after the first settlement has been reached, but attorney debt relief firms may charge retainer fees before settlement has been reached.
Debt settlement can be much less expensive than your current obligations, but it is a debt relief option, meaning that there are debt settlement pros and cons associated with it. For example, while debt consolidation loans can help increase your credit score, debt settlement can hurt your credit score.
Loyal Lending Reviews
Let's look at the Loyal Lending reviews to help you make the most informed decision, starting with BBB reviews.
Loyal Lending BBB
As of May 1, 2023, Loyal Lending has a BBB page with an F rating. What's interesting to note is that Loyal Lending has just 1 complaint and 1 review, but what gave it an F rating may be the alert for the business.
That said, it can be helpful to read the Loyal Lending BBB alert that I highlighted below.
Where Are Other Loyal Lending Reviews?
I could also find no other reviews for Loyal Lending. As stated before, I found reviews for another company called Loyal Lending, but it's related to mortgage loans, not debt consolidation loans. Also, the website has an entirely different logo.
Closing Thoughts
From the research, it wasn't clear what type of company Loyal Lending is.
From my interaction with John, it seems like Loyal Lending is just a marketing service that refers out clients to other firms that practices debt settlement.
One question I have is whether Loyal Lending actually ever refers people to debt consolidation loan companies or if anyone gets a 3.89% interest rate. Or, potentially, it markets to people who can't qualify for a loan, but does qualify for a debt consolidation program, which is 100% different.
Also, while it does seem that BBB has connected companies like this together as the same, it does not make sense why a marketing company would reinvent itself each time to send mailers out.
For example, California debt relief is a marketing firm for debt settlement companies, but it's been around for many years with consistent volume.
If you need debt consolidation, let's discuss options next.
What If I Can't Get a Debt Consolidation Loan Elsewhere?
If you can't get a consolidation loan from Loyal Lending, what are your options? Are you putting more on your cards each month than reducing them? Do you have a high debt to income ratio?
The challenge is that you may qualify for a debt consolidation loan, but the interest rate could be 29.99% or the loan won't consolidate all of your debt.
As stated above, if you have debt that is unaffordable, we built the free debt options and costs calculator below that allows you to compare options such as non-profit credit counseling, debt settlement and debt payoff planning. If you are already in financial hardship, the calculator also allows you to understand bankruptcy. No email address is required unless you'd like some additional free assistance.