Written by Ascend Team
Updated Oct 3rd, 2023
Did you get a mailer from Proper Funding that you pre-qualified for a debt consolidation of under 4%? Have you never heard of this company?
Did you apply and then get rejected for the loan, but now you are working with Strategic Consulting to enrolled you in a debt consolidation program? We will cover all that and more, so let's get started.
What is Proper Funding?
Proper Funding appears to be a marketing firm that pitches debt consolidation loans. I came aware of them recently by finding similar companies such as Patriot Funding, Loyal Lending, etc. The marketing emblems are different, but the concept appears to be the same.
You receive a letter in the mail that you prequalify for a loan covering all of your debt at a rate of 3.89% - 4.5%

You apply to the loan, and get denied for the loan, but do qualify for a debt consolidation program via a Strategic Consulting representative.
You may then get enrolled with a debt relief law firm like Level One Law or another internal program like Atlas Debt Relief.
A Debt Consolidation program is NOT the same thing as a debt consolidation loan. In a debt consolidation program (also known as debt relief), your accounts fall behind, you could be sued for delinquent debt, your credit score may be negatively impacted and you may pay taxes on forgiven debt. Now, debt consolidation programs can be legitimate, but it's important to understand the pros and cons of such programs. I just shot a recent YouTube video covering bait and switch debt consolidation programs.
Now, if you are looking for a loan, there are 3 debt consolidation loan options below that we like that does not affect your credit when checking your rate, does not charge prepayment penalties, and has legitimate reviews.
How Much Do Companies Like Proper Funding Cost?
At Ascend, we believe that debt consolidation programs (debt relief) may be a good option, but often in context in understanding all the costs and duration estimates of all your options. There are two types of firms you may work with, and the fees may be quite different.
If you end up in a debt consolidation program with a non-law firm, you may pay generally between 15-25% of the enrolled debt amount, but the fees are not due until settlement has been reached and first payment has been made. So, if you have $10,000 in debt, you may pay between $1,500 and $2,500 in fees if you complete the program.

If you work with a

debt relief law firm

, you may have to pay retainer fees before settlements have been reached. This can be an important distinction to understand in case you have to cancel the program before any settlements have been reached. In a traditional debt consolidation program, you often pay fees after the first settlement has been reached, but attorney debt relief firms may charge retainer fees before settlement has been reached.
Proper Funding Reviews
Let's look at reviews I found on BBB, TrustPilot and Google.
Proper Funding BBB
Proper Funding has an F rating on BBB. There's also an alert for Proper Funding that says that the mail sent to the mailing address on file was returned. Proper Funding has four BBB complaints, stating they felt like there was constant harassment with mailers. Another mentioned having trouble canceling their program.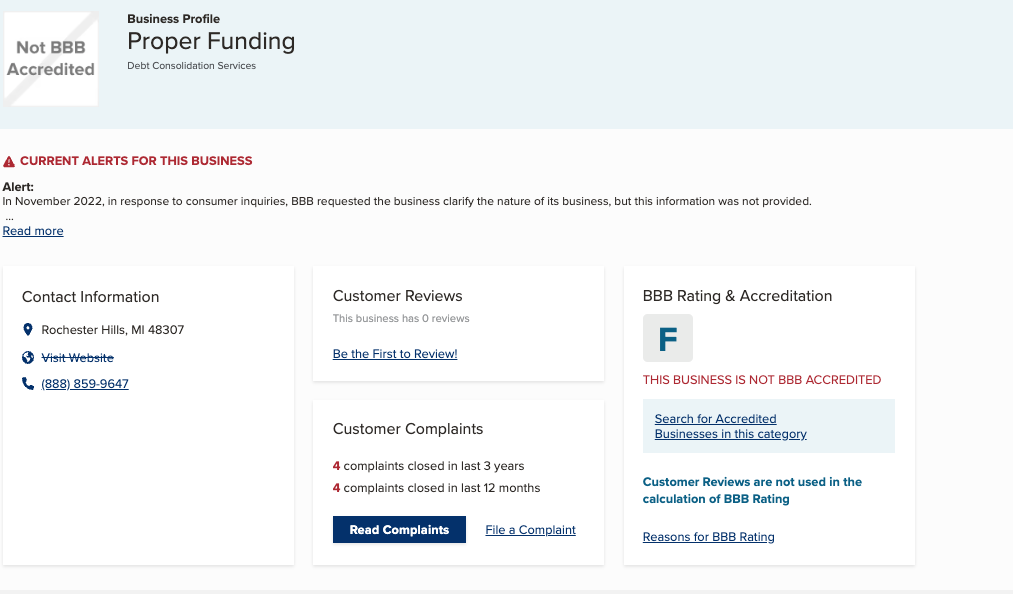 TrustPilot Reviews
I was able to find Proper Funding on TrustPilotand they were rated a 3.2 out of 5.
There was only one review on the website, stating that they pulled inaccurate information from their credit report.
Google reviews
It was difficult to find other sites such as Google that had reviews for Proper Funding.
Closing Thoughts
Hopefully, understanding the Proper Funding reviews and
how debt relief companies work
can help you understand your next steps. It's ultimately your decision and you understand your finances best
If it's helpful, please feel free to use the free debt resolution option calculator below to help you estimate the costs and duration of your different option.