Were you perusing social media and came across an ad such as the one below from United Settlement? Or did you receive a mailer offering services?
What are the United Settlement Reviews? Is It Legitimate? What is the Cost?
Source: Facebook
We will cover all that and more, so let's get started.
What Is United Debt Settlement?
According to
United Settlement's BBB page,
the company was started in 2016. This means United Settlement has been in business for just over 6 years. While this isn't as old as some of the larger debt settlement companies, it does have more years than some of the newer debt settlement companies that are popping up. If you are unfamiliar, United Settlement provides a service known as
debt settlement
(also known as debt relief or debt consolidation programs)
The goal of a debt settlement firm is to find a lower payment that will fully satisfy the debt that you owe. So, a debt settlement may try to settle a $20,000 credit card balance for $10,000. This can provide ample savings and a potential lower monthly payment.
I was the previous CEO of a debt settlement company, and I believe debt settlement can be a good option for some, but not for others.
Now, if you are struggling with debt and wondering what to do next, we built a free, unbiased debt options comparison calculator (not even an email address is required) that provides a wide range of debt options that may be able to fit your budget. The data is personalized to your income and expenses, so you can get accurate costs, pros and cons, and options.
Let's cover how debt settlement cost works next.
How Much Does United Settlement Cost?
At Ascend, we believe that debt settlement may be a good option, but it's only in the context of understanding all of your options and understanding the cost of that option. This is exactly why we built a free debt settlement cost calculator so that you are MOST informed. While the calculator cannot provide your exact Loyal Lending debt settlement plan payment, it provides an estimate based on your personalized financial data and allows you to compare debt relief to other options.
Debt settlement can be much less expensive than your current obligations, but it is a debt relief option, meaning that there are debt settlement pros and cons associated with it. For example, while debt consolidation loans can help increase your credit score, debt settlement can hurt your credit score.
Now that we have considered what you need to be looking at, here are some United Settlement reviews from across multiple platforms.
United Settlement Reviews
When beginning the research into a
debt settlement company
you are wanting to work with, there are a couple of things to consider. Specifically, with United Settlement, here are a couple of things to look into:
When deciding on a debt settlement company, it can be helpful to look at the most positive and most negative reviews. This can help give you a balanced and accurate view of United Settlement and whether or not they are a company you would want to look at.
BBB reviews
One of the more trusted review sites is
Better Business Bureau
. The BBB considers multiple factors and takes reviews from customers outside of the company's own review system. It's important to note that United Settlement is not a BBB accredited business. This doesn't mean too much — you simply pay a certain amount to receive accreditation — however, most legitimate businesses seem to be accredited.
While the review on BBB is 4.56 out of 5 stars, it should be considered that there are only 36 reviews available. That makes this review not necessarily as trustworthy as an average review that has thousands of customer reviews. Despite this, it is still a good rating. However, you should also consider the negative reviews.
One person wrote that what they thought was going to be a debt management program — where they would organize their debts and pay it out over time — turned out to be a debt settlement program, which hurt their credit score and opened them up to potential lawsuits. This review makes it sound as though United Settlement may not be fully upfront with what services they are offering. Multiple complaints had similar circumstances reported.
Another complaint includes a lack of refund after canceling a debt settlement contract. One customer claimed that they had paid over $2,000 into their bank account to be paid to their creditors. After deciding to cancel their contract, the client claimed that they only received $500 back after being informed of multiple hidden fees they weren't aware of.
On the other hand, there are many reviews that claim working with United Settlement is exactly what they expected and ended with a negotiated debt repayment that was more manageable than what they started out with.
Google Reviews
Google reviews tend to have a wider pool of reviews, though they aren't as monitored as BBB reviews. Because the barrier to entry is so low, there tend to many many more
Google reviews
than other forms of reviews.
The average rating from 124 client reviews leaves United Settlement with a 4.7 average. The majority of reviews left on Google are very positive. Very few low ratings which appear to be not as recent as their higher reviews. Also, it seems important to note that, of the low reviews, they are all 1-stars — there are no 2 or 3-star reviews. The next lowest score is 4-star.
Similar to the BBB complaints, the low reviews seem to center around feeling deceived by the company. Most claim to not fully understand what they were getting into before moving forward with the company.
Website Reviews:
When checking reviews on a company's website, it's important to be wary of what is on the site itself. It is possible that the company can field the reviews that come in and make their average go up. If you are ever checking reviews on a company's website, and they are only good, it is likely that there is some sort of tactic that has made the company reviews look better than they actually are.
On
United Settlement's website
, there is actually a wide variety of ratings, ranging from 1-star to 5-star. The average rating from 374 clients ends up a 4.4, which is similar to what is found on other platforms. Most of the positive reviews claim that United Debt Settlement did exactly what was expected. They walked them through debt settlement with their creditor with ease.
The website does contain negative reviews as well. One of the most notable is a client who claimed he began working with United Settlement. Things were apparently going well for a while. However, for a period of time, he was not able to get in contact with his representative with the company. During that time, his creditor filed a lawsuit. This ended with an automatic judgment against him. This negative review seems to be a unique circumstance, but it is still worth considering before moving forward.
Facebook Reviews
Like Google, Facebook reviews are largely unregulated, meaning anyone can leave a review without much verification. Facebook seems to have a very low amount of reviews for a debt settlement company with social media.
While the pool of reviewers is small, the rating is shockingly high — close to a perfect score! The individual reviews claim that clients were left surprisingly calm and happy with their debt settlement process and that the company was incredibly professional.
It is important to note that, sometimes, companies use strategies to get clients to leave positive reviews on their social media pages. Often, this is in return for perks and benefits. Because of this, and the lack of opposing or negative reviews,
United Debt Settlement's Facebook reviews
should be taken with a grain of salt.
Trust Pilot Reviews
One of the most positive scores came from Trust Pilot. Trust Pilot takes in reviews outside of the company website to make sure the score or rating is unbiased by the company itself. With over 350 reviewers,
Trust Pilot's average rating of 4.9
seems stellar.
A majority of the comments left behind by reviewers recount a process that was simple. As with the other platforms, there were a few comments left behind that painted United Settlement as deceitful and dishonest, but those comments were few and far between — and they also seemed more emotionally charged rather than fact-backed. Either way, Trust Pilot has glowing reviews of United Settlement.
One thing that can be noticed from the reviews is the timeline in which the commenter was reviewing the company. Many reviews read that the client was satisfied because of the process they went through setting up the debt settlement. This means that some happy clients had only encountered half of the entire process. Take this into consideration when reading through some of the reviews. Companies do tend to be miles more accommodating and kind at the beginning of the process as opposed to the end.
Other Reviews
Lastly,
Super Mommy's review of United Settlement
asks clients whether or not they would recommend the company. While the pool of reviewers is small, 20 out of 21 reviewers wrote that they would recommend using United Settlement for debt settlement.
The one complaint listed on the website appeared to be from a client who was disgruntled by a refund they received after canceling the debt settlement. It seems as though they put back $25,000 towards paying off their debt. However, they only received $10,000 back once they canceled. While the complaint was not super clear, it appears that the client was unaware of some of the fees associated with their services. The company has not responded to her complaint.
How Do United Settlement Employees Review the Company?
While employees tend to review different aspects of United Settlement than clients, they are still important to consider. Employees can give potential clients an inside look at what goes on behind the scenes. For instance,
Glassdoor's United Settlement
average rating is only around 2.7.
Complaints about the company range from an unorganized structure to an incompetent manager. It is important to note that Glassdoor only shows 6 employee reviews. The pool of employees reviewing the company is definitely small. However, they are still important to take into consideration.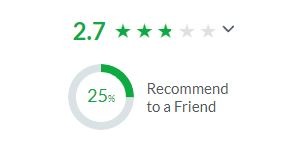 Conclusion
In total, it seems as though United Settlement does have a decent score across the board. While the pool of reviewers isn't as large as some of the larger national chains, there are hundreds of decent reviews across many different platforms. As always, take the time to do your own research.
See if there are people in your life who have worked with the company, and try talking to a representative yourself to see if you feel comfortable working with the company. If you have any other questions about United Settlement, or you would like to talk more about debt settlement, feel free to reach out or take the free debt settlement cost calculator below.